Veteran Burial Options in the
Garden of Honor
About the Garden of Honor
Higgins Cedar Hills Memorial Gardens was designed to be a place of solace. We are proud to be able to offer such a beautiful, peaceful place of rest.
Our private cemetery also includes veteran burial options. The Garden of Honor is dedicated to those who served our country.
The administrative office is open Monday through Friday from 8:00 a.m. until 5:00 p.m. at Higgins Funeral Home: 213 East Market Street, Fayetteville, TN 37334.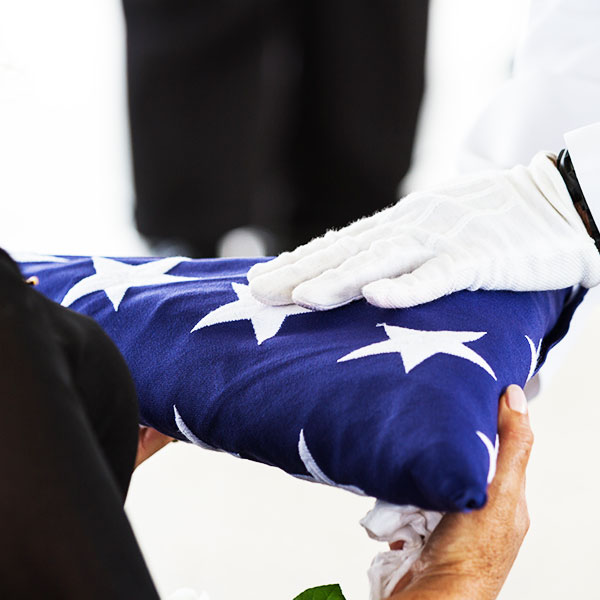 Scheduling an interment
Committal services are conducted 7 days a week from 9:00 a.m. until 4:00 p.m. Services may be held at our committal area by the flag pole or at the graveside. All interments must be scheduled 24 hours in advance and any fees due are payable at the time of interment. Please have your local funeral professional call our office at 931-433-2544 to schedule an interment.
Eligible veterans, spouses, and dependent children may pre-register for interment in the Garden of Honor. All other family members may pre-register for burial in other gardens within Higgins Cedar Hills Memorial Gardens.
Burial benefits
Burial in the Garden of Honor is open to all members of the armed forces who have met a minimum active duty service requirement and were discharged under conditions other than dishonorable.
A Veteran's spouse, widow or widower, minor dependent children, and under certain conditions, unmarried adult children with disabilities may also be eligible for burial. Eligible spouses and children may be buried even if they predecease the Veteran.
Members of the reserve components of the armed forces who die while on active duty or who die while on training duty, or were eligible for retired pay, may also be eligible for burial. For more information visit the US Department of Veteran Affairs website.
Documents required
Copy of Veteran's DD214 or NGB Form 22 (Military Discharge Papers)

Marriage License for spouse burial eligibility
Types of interment offered
Higgins Cedar Hills Memorial Gardens has spaces available for in-ground casket burial sites and in-ground cremation interment.
Interment cost
For spouses and dependent children, a $1,950 (grave space $800; marker $995; tax $90; installation $50) fee will be charged and due 24 hours prior to interment.
An opening and closing of the grave fee will be charged on all burials of casketed remains ($675) and cremated remains ($350) at Higgins Cedar Hills Memorial Gardens.
An outer burial container is required on all burials and may be purchased through your local funeral provider.
For veterans, the cemetery provides the following at no cost:
Burial plot for interment or inurnment

30-minute committal service

Perpetual care of the gravesite

Assistance in completing VA Form 21P-530 for burial benefits

(this is a reimbursement program by the government to assist in covering the cost of burying a veteran, in a cemetery not owned by the federal government)

Assistance in completing VA Form 40-1330 for government headstone

(installation fees apply for all headstones set at Higgins Cedar Hills Memorial Gardens)